Selecting the perfect dove name are meaningful endeavor, and it doesn't need to be a complicated one. We've compiled a list of  wonderful dove names to simplify the process for you. Within our collection, you'll encounter names that are graceful, endearing, and distinct, guaranteeing you'll uncover the ideal name for your feathered companion. So, let's embark on this journey together and find that perfect name for your gentle dove.
Dove has high significance in cultures and religious traditions, similarly, pigeon also has high significance in cultures, if you want to know the names of the Pigeons, check our blog on Pigeons names 
Female doves, with their innate elegance, captivate with every graceful movement and soft, understated beauty. Their names honour their refinement and become a part of their identity, evoking serenity and beauty. 
 Seraphina
 Isolde
 Marigold
 Celestia
 Arabesque
 Paloma
 Serenity
 Magnolia
 Anabelle
 Calista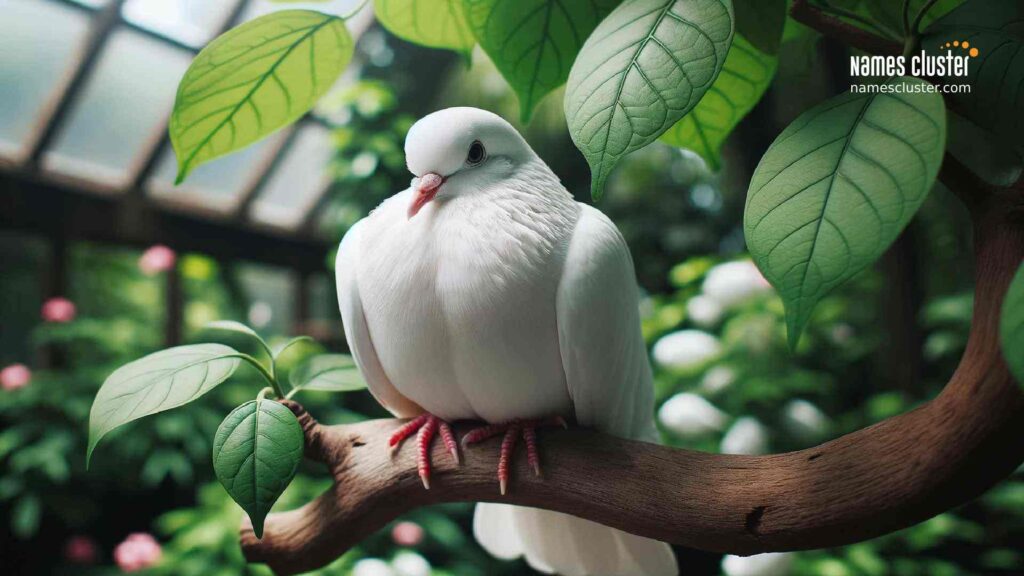 Male doves, those elegant and serene birds, possess a unique charm that resonates with both their caretakers and nature enthusiasts. Their demeanour is often described as tranquil, and their cooing sounds, like soft melodies, fill the air with a soothing rhythm. 
Zenith
Aurelius
Solstice
Darian
Orion
Thaddeus
Luciano
Othello
Soren
Cosimo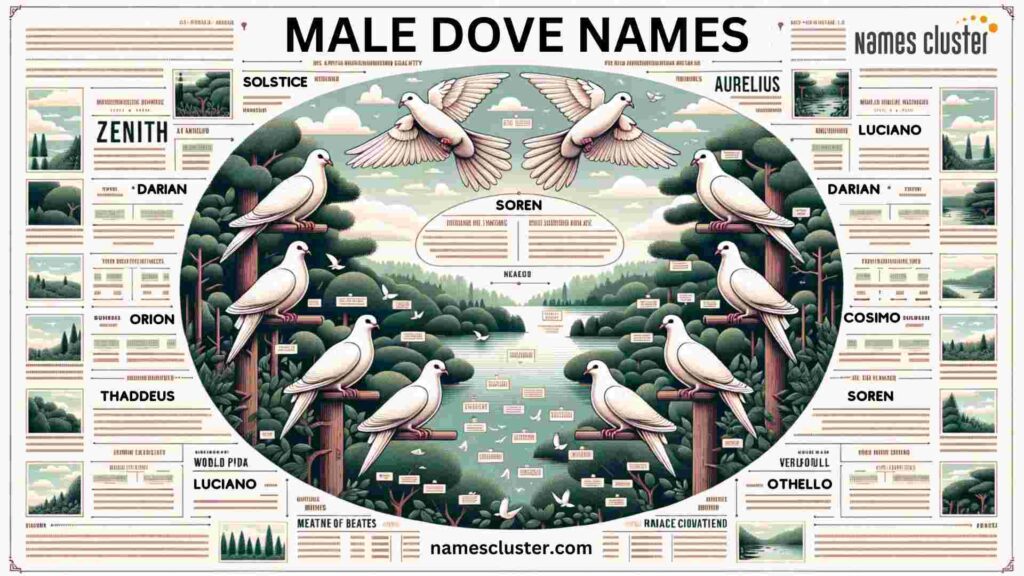 Baby doves, also known as squabs, are adorable. They are tiny and innocent, which makes them delightful to have around. When you pick names for them, it's like planting seeds in their young hearts. 
Larkspur
Finch
Zephyr
Dandelion
Pippin
Breezy
Meadow
Skylar
Whisper
Clover
The best dove names hold a special place in your heart, reflecting your deep bond with your feathered friend. They go beyond labels, resonating with your dove's unique qualities and personality. 
Harmony
Celestial
Hope
Serenade
Nimbus
Seraphim
Tranquil
Solace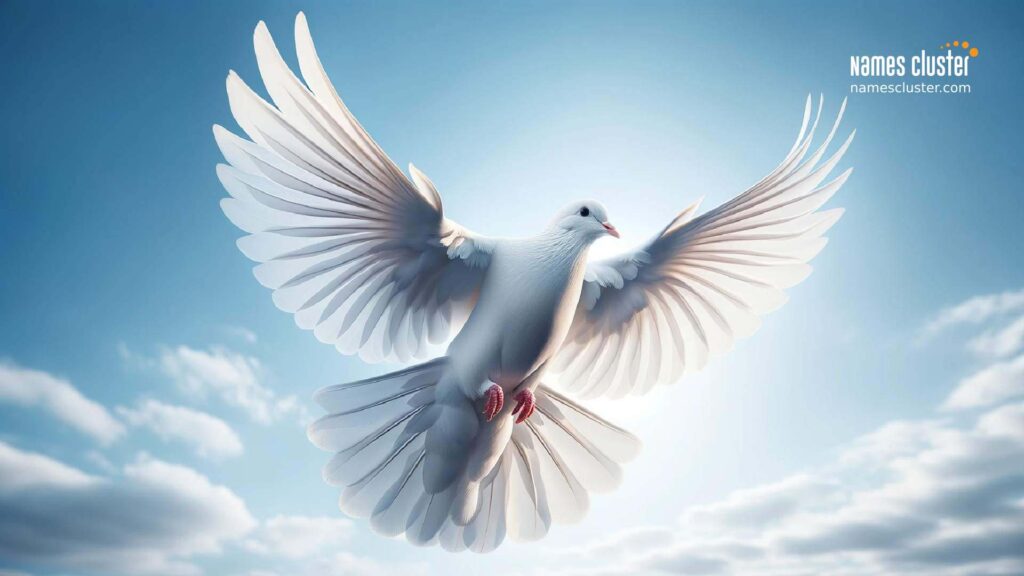 White doves symbolize purity and peace with their pristine appearance. When naming them, choose names that match their beauty and calmness. These names pay homage to their unblemished elegance and embody serenity,
Ivory
Snowflake
Dovelette
Feather
Ghost
Casper
Alabaster
Nimbus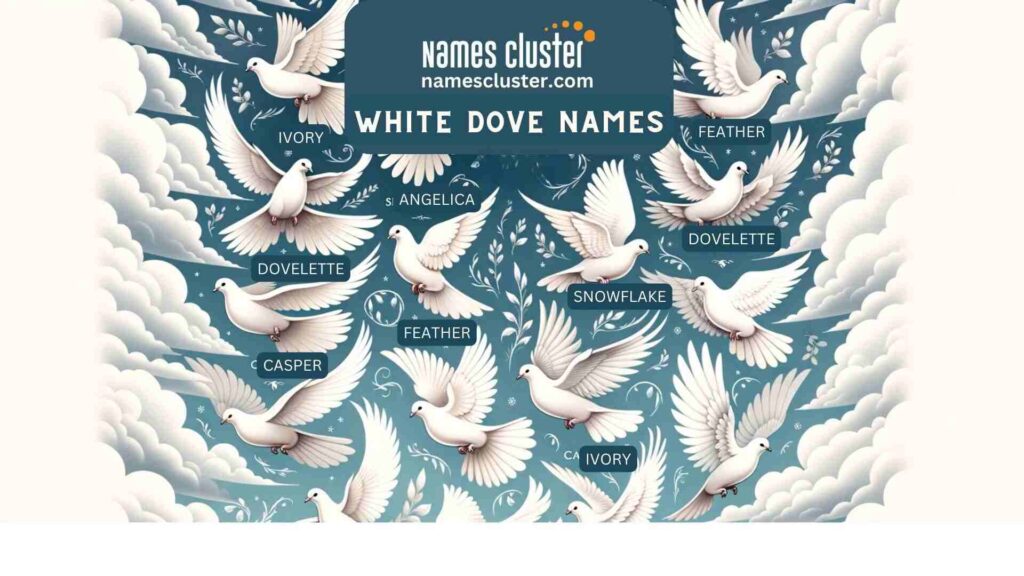 Doves are associated with various symbols and attributes. These names encompass a range of meanings. Here are 10 unique options:
Liberty
Amity
Zen
Soothe
Purity
Nimbus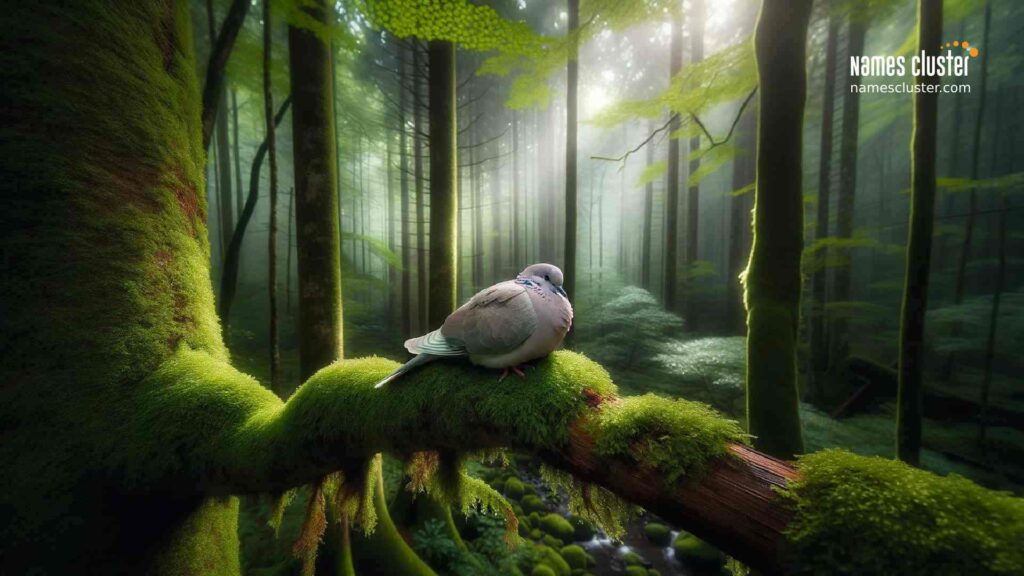 Cute dove names are all about showing how sweet and playful these birds can be. When you give them names that are adorable and charming, you're celebrating their lovable nature. It's like saying, "You're so cute and special!" 
Cupcake
Snickers
Huggles
Pudding
Tinkerbell
Cuddlebug
Fluffkin
Peaches
Buttercup
Sprinkles
Mourning doves, known for their soft cooing and muted grey plumage, have a peaceful and melancholic nature. Their contemplative demeanor is reflected in their behavior, often perched quietly. Their mournful coos evoke a sense of reflection and serenity.
Solace
Dusk
Echo
Melody
Whisper
Tranquil
Dovelet
Peace
Gloom
Serenade
When it comes to naming doves, diversity in options allows you to find the perfect name that resonates with the unique personality and characteristics of your feathered friend. Doves, as a group, are incredibly diverse in terms of species, colours, and attributes. 
Aurelius
Paloma
Zenith
Tinkerbell
Celestia
Zephyr
Whisper
Seraphina
Solstice
Nimbus
Nicknames are more than just names; they're endearing terms of affection that can deepen the bond between you and your beloved dove. These charming monikers create an intimate connection, a secret language shared only between you and your feathered friend. 
Dovey
Feathers
Dovie
Coo-Coo
Angel
Purity
Sunny
Seri
Snuggles
Dreamer
The Gentle Nature of Doves
Dove birds are indeed gentle and peaceful creatures, known for their calm and serene nature. One of the most distinctive features of doves is their soft cooing sounds, which are quite soothing to listen to. These gentle calls are a part of their everyday communication and are often associated with a sense of tranquillity.
In terms of their diet, doves primarily feed on seeds and grains. They are often seen foraging on the ground, pecking at these food sources with their gentle beaks. This ground-feeding behaviour is one of their distinct characteristics.
In conclusion, the world of dove names reflects the gentle and peaceful nature of these birds. Naming doves is a way to celebrate their soothing cooing sounds, their symbolism of purity and love, and their simple yet beautiful presence in our lives. Whether it's choosing names for white doves, reflecting on their dietary habits, or considering their strong pair bonding, the act of naming doves is a reminder of the love, loyalty, and togetherness they symbolize.