Selecting a suitable and captivating softball team names  is essential to establishing a distinct identity. Much like a uniform or a logo, a team name is a powerful symbol representing the team's spirit, camaraderie, and aspirations. A well-chosen name can evoke excitement, unity, and even a sense of intimidation, setting the tone for the team's performance on and off the field.
Finding the perfect name for your softball team is essential to set the tone for the game. Browse through this collection of team names that range from classic to quirky, and choose one that resonates with your team's spirit and identity.
Titans United
Vortex Velocity
Fury Fusion
Dominators Alliance
Eclipse Enigma
Legacy Fusion
Thunder Troop
Renegade Union
Radiant Rebels
Vanguard Vibe
Storm Surge Collective
Dynamo Dominion
Pioneers Pact
Ignite Impact Squad
Uprising Unity
Resilient Regiment
Ascend Assemble
Fusion Forces
Victory Vanguard
Zealot Zephyrs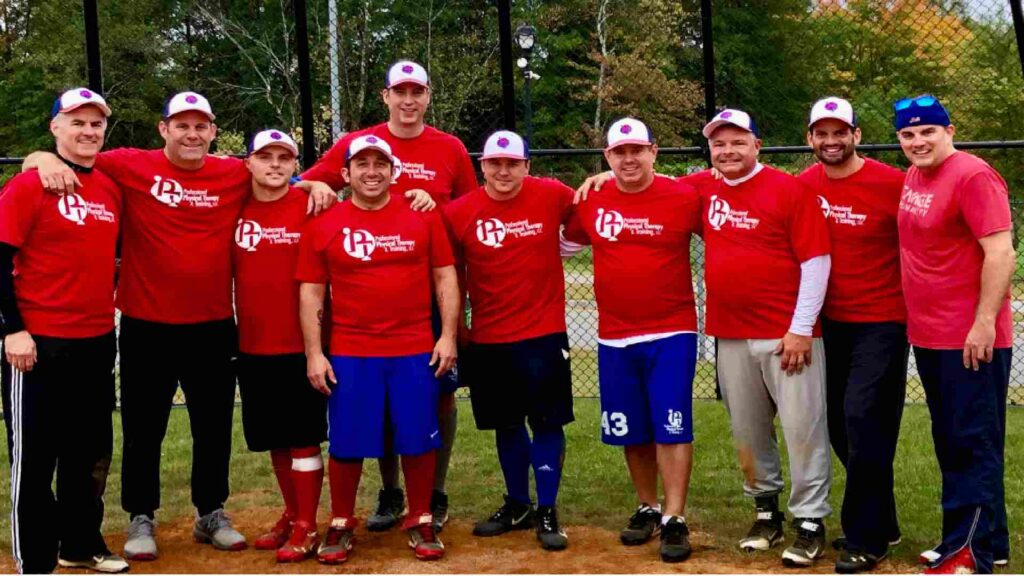 Funny Softball Team Names
Inject humor into your softball team's identity with these light-hearted and amusing team names. A good laugh can be a great motivator on the field!
Hit Squad Hooligans
Curveball Comedians
Glove Droppers
Foul Ball Funnies
Bunt Bloopers
Dugout Jokers
Catching Clowns
Outfield Oddities
Base Bloopers
Slide Slip-Ups
Umpire Whisperers
Fumble Funnies
Strike Zone Stand-Up
Sliding Shenanigans
Bumbling Batters
Pitch-Perfect Pranks
Fierce Fly Ball Flubs
Double Play Delights
Whacky Windmillers
Diamond Ditzes
A good softball team name encapsulates your team's strong qualities and determination. These names reflect the positive aspects that make your team a formidable contender on the diamond.
Strive Stars
Unity Unleashed
Triumph Tornadoes
Legacy Lancers
Rising Rebels
Thrive Thunderbolts
Everlast Energy
Vital Velocity
Dynamo Dominance
Infinite Impact
Guardian Grit
Pursuit Panthers
Uplift Umpires
Boundless Blazers
Stellar Shift
Resilient Rangers
Force Fusion
Invictus Invaders
Zeal Zephyrs
Flourish Flames
Empower Envoys
Illuminate Instinct
Adrenaline Avalanche
Ascend Amazons
Propel Pioneers
Elevate your team's image with names that exude a sense of coolness and confidence. These names are designed to make a lasting impression on and off the field.
Chill Diamond Crew
Frostbite Flyers
Iceberg Impact
Arctic Aces
Glacier Grit
Steel Stormchasers
Neon Navigators
Ignite Illusionists
Chrome Cyclones
Urban Uprising
Rebel Rapids
Nebula Nomads
Chrome Conquerors
Cosmic Catalysts
Vapor Vipers
Inferno Intensity
Nova Nitro
Urban Updraft
Electric Echoes
Jetstream Jolts
Sometimes the creative process needs a spark. Explore this collection of innovative team name ideas that could serve as a foundation for your team's identity.
Whirlwind Warriors
Aurora All-Stars
Eclipse Embers
Radiant Rapids
Nova Navigators
Harmony Heat
Dazzling Dugouts
Stellar Storms
Legacy Luminaries
Thunder Thrive
Fierce Fusion
Sparkling Sparks
Quantum Quest
Serene Sluggers
Twilight Tigers
Flare Flames
Momentum Mystics
Swift Strides
Nebula Ninjas
Jubilant Juggernauts
Aim for the top with these best-of-the-best softball team names. These names symbolize excellence, teamwork, and the drive to win.
Dominance Dynasty
Thunderstrike Titans
Momentum Maulers
Victory Vanguard
Phoenix Frenzy
Diamond Defenders
Blaze Brigade
Powerhouse Pioneers
Stealth Strikeforce
Elite Enforcers
Thunderbolt Thunderbirds
Precision Panthers
Supernova Slammers
All-Star Authority
Turbo Tigers
Rampage Renegades
Apex Avengers
Hurricane Hitters
Thunderstorm Troopers
Invincible Impact
Unique Softball Team Name Ideas
Stand out from the crowd with these unique and uncommon team name ideas. A distinctive name can set your team apart and make it memorable.
Nebula Navigators
Whistleblitz
Luminous Lynxes
Zenith Zephyrs
Quasar Quicksilver
Nexus Nitro
Astral Angels
Aegis Alchemists
Cypher Cyclones
Spectrum Surge
Equinox Envoys
Solar Seraphs
Quantum Questers
Apex Azures
Pulsar Pioneers
Zephyr Zingers
Valkyrie Velocity
Echelon Eclipse
Phoenix Phenomena
Utopia Umpires
Mirage Mavericks
Orison Outlaws
Mirage Mermaids
Ignition Iridescence
Celestial Cyclones
Clever Softball Team Names
A touch of clever wordplay can add more appeal to your team's name. These names showcase your team's wit and intelligence on and off the field.
Bunt Busters
Curveball Connoisseurs
Pitch Please!
Glove Gurus
Swing Symphony
Foul Playmakers
Base Invaders
Pop-Up Puzzlers
Outfield Oracles
Slider Schemers
Catchphrase Crew
Home Run Houdinis
Dugout Dazzlers
Mindful Mitts
Umpire Whispers
Fastpitch Phantoms
Flicker Fakes
Spin Doctor Sliders
Changeup Charades
Tagline Tycoons
Double Play Dreamers
Squeeze Strategy
Seventh Inning Sages
Grand Slam Gamblers
Stealthy Stealers
Girls Softball Team Names
Empower and celebrate the girls on your softball team with these names tailored to their strength, unity, and determination. Show the world what your team of fierce females can achieve!
Radiant Roses
Diamond Butterflies
Blossom Ballers
Starlight Strikers
Graceful Gliders
Athena's Amazons
Sparkling Sirens
Majestic Maidens
Rainbow Riptide
Aurora Aces
Enchanting Eclipse
Empower Elegance
Bella Blazers
Harmony Hurricanes
Serene Slammers
Velvet Vortex
Whispering Warriors
Moonlight Maulers
Darling Dynamos
Precious Pitches
Dazzling Divas
Sweet Thunderbirds
Fierce Flamelets
Twilight Titans
Radiant Reign
Vibrant Vipers
Darling Dominators
Darling Dynasties
Mystique Mavericks
Rosy Rampage
Youth Softball Team Names
For the young players taking their first steps into the world of softball, these names provide a sense of energy and enthusiasm, capturing the excitement of youth in the game.
Lil' Diamond Divas
Junior Thunder Twisters
Rookie Rampage
Swift Starlets
Mini Fury Force
Tiny Titan Tigers
Power Pint-sized Slammers
Sparkling Sparklers
Blossom Blazers
Little Legends
Junior Nova Ninjas
Whirlwind Warriors
Petite Phoenix Flames
Rising Skyline Smashers
Dynamo Dynasties
Sparkle Storm
Little Vortex Vanguards
Breezy Blaze Bombers
Giggling Gliders
Junior Venom Valkyries
Young Eclipse Elite
Mini Meteor Maulers
Dynamic Dominettes
Twinkle Thunderbirds
Junior Thunderstorm Titans
Fresh Force Five
Dazzling Daisies
Rookie Victory Vanguards
Pebble Power Sliders
Junior Iron Maidens
Flicker Fireflies
Petite Precision Pitches
Swift Sparkle Strikers
Mighty Minis
Little Luminaries
Professional Softball Team Names
If you're entering a higher level of competition, your team's name should reflect the seriousness and commitment of playing professionally. These names embody professionalism and skill.
Diamond Dominators
Fastpitch Fury
Power Sliders
Elite Crushers
Thunder Titans
Swift Strikers
Blaze Bombers
Precision Pitches
All-Star Amazons
Velocity Vipers
Supreme Swingers
Iron Maidens
Stellar Slammers
Phoenix Flames
Diamond Divas
Thunderbird Thrashers
Rampage Rebels
Victory Vanguards
Eclipse Enforcers
Thunderstorm Tigers
Force Five
Savage Sirens
Thunderbolt Blazers
Skyline Smashers
Venom Valkyries
Diamond Dynasty
Storm Surge
Quantum Queens
Nova Ninjas
Eclipse Elite
Selecting an appropriate and compelling team name is crucial to establishing a strong identity for a professional softball team. A well-chosen name reflects the team's character and values and captures the essence of their playing style and aspirations.
Whether conveying power, speed, unity, or a sense of intimidation, a thoughtfully crafted team name can resonate with fans, players, and the broader audience. It becomes a rallying point that brings everyone together, fostering a sense of camaraderie and enthusiasm.