Panda names bring out the charm and playfulness of these endearing black-and-white creatures. Known for their amusing antics and energetic demeanor, pandas inspire names that mirror their nature, traits, colors, and behaviors.
Whether drawn from beloved panda cartoon characters or renowned celebrities, the possibilities are as diverse as these adorable bears. Whether seeking the ideal name for a panda plush toy or even a black and white dog or cat, these panda-inspired names effortlessly capture their delightful essence.
Explore a selection of names inspired by renowned pandas that have left their mark on history, conservation efforts, or pop culture. These names pay homage to the pandas that have captured hearts and attention worldwide.
Ai Shan – First surviving giant panda cub born at the National Zoo in Washington, D.C.
Mei Xiang – Mother of Tai Shan and another beloved resident of the National Zoo.
Bao Bao – Tai Shan's sister, meaning "precious" or "treasure."
Xing Bao – Playful panda at Madrid Zoo, its name means "star treasure."
Ying Ying – Ocean Park Hong Kong resident known for her sweet nature.
Le Le – Ocean Park's male panda, characterized by his energetic personality.
Lun Lun – Mother panda at Zoo Atlanta and mother of several cubs.
Yang Yang – Father panda at Zoo Atlanta, known for his gentle demeanor.
Bei Bei – National Zoo panda, meaning "precious treasure."
Gao Gao – San Diego Zoo resident known for his calm disposition.
Hua Mei – The first giant panda cub to survive in the USA.
Chu Chu – A playful and curious panda from the Sichuan Wolong Nature Reserve.
Er, Shun – One of the pandas on loan to Canada, meaning "double smoothness."
Da Mao – Er Shun's partner in Canada, meaning "big fur."
Tian Tian – National Zoo panda, meaning "more and more."
Yuan Zai – First panda born in Taiwan, its name means "round and plump."
Tuan Tuan – Resident of Taipei Zoo, its name signifies "reunion."
Yuan Yuan – Tuan Tuan's partner, symbolizing "round and complete."
Liang Liang – Pair of pandas in Malaysia, the name means "pretty" or "lovely."
Feng Yi – Part of the pair in Malaysia, meaning "phoenix."
Sijia – A young panda raised in captivity, symbolizing "little good."
Pan Pan – Considered the world's oldest captive panda, known as the "father of pandas."
Jia Jia – The world's oldest known panda, resided in Hong Kong.
Basi – Famous for being the oldest panda in captivity in China.
Wang Wang – Pair of pandas in Adelaide Zoo, meaning "net/net.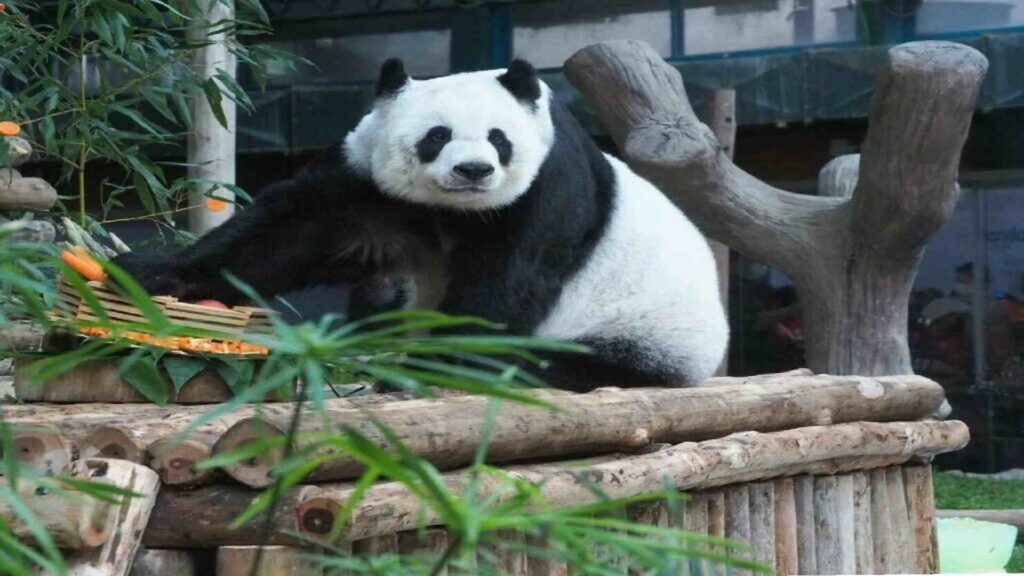 Celebrate the grace and beauty of female pandas with this assortment of names that embody femininity. These names reflect female pandas' gentle and endearing nature, offering a perfect match for your adorable friend.
Willow
Lily
Bella
Daisy
Coco
Pearl
Mia
Ruby
Hazel
Zoey
Nala
Chloe
Luna
Olive
Mia
Rosie
Winnie
Penelope
Stella
Sophie
Mia
Mocha
Cleo
Gracie
Hazel
Poppy
Ivy
Mia
Rosie
Sadie
Embrace the strength and charisma of male pandas with names that reflect their powerful presence. These names highlight male pandas' noble and majestic qualities, providing a fitting identity for your charming companion.
Max
Leo
Rocky
Toby
Charlie
Jack
Max
Oliver
Teddy
Hunter
Finn
Milo
Jasper
Oscar
Sam
Cody
Winston
Jackson
Cooper
Bentley
Bear
Toby
Winston
Archer
Capture the innocence and playfulness of young pandas with names that exude sweetness. These names reflect baby pandas' youthful energy and curiosity, making them an adorable choice for your panda cub.
Peanut
Munchkin
Bubbles
Tiny
Pippin
Sprout
Nugget
Button
Jellybean
Pebbles
Chompers
Muffin
Sprinkle
Giggles
Tadpole
Cuddlebug
Mini
Pip
Wiggles
Squirt
Snuggles
Cookie
Mini
Twinkle
Dinky
Squeaky
Cutie Pie
Niblet
Sparkle
Delve into a world of cuteness with names that perfectly match the adorable appearance of pandas. These names are handpicked to evoke the heartwarming qualities that make pandas so beloved.
Marshmallow
Puffy
Cupcake
Snowball
Fuzzball
Honeydew
Snickerdoodle
Buttercup
Tinkerbell
Pudding
Giggles
Marshmallow
Cotton Candy
Sprinkle
Peachy
Bumblebee
Jellybean
Whiskers
Sunny
Noodle
 
Step into the world of animation with names inspired by popular cartoon panda characters. These names bring a touch of whimsy and nostalgia, connecting your panda to the imaginative realm of cartoons.
Pandy (from "We Bare Bears")
Mr. Ping (from "Kung Fu Panda")
Ping Pong (from "The Amazing World of Gumball")
Pandy Winks (from "The ZhuZhus")
Bobo (from "Clarence")
Bamboo (from "Mao Mao: Heroes of Pure Heart")
Pancada (from "Animals United")
Pandacorn (from "My Little Pony")
PandaBubu (from "The Fairly OddParents")
Panda King (from "Sly Cooper" game series)
Pandy (from "Panda and Krash: Where's Krash?")
Pandarella (from "Elena of Avalor")
Pan Pan (from "Kody Kapow")
Pandalf (from "Skylanders")
Penny (from "Puppy Dog Pals")
Embrace pandas' positive and admirable attributes with names that resonate with virtue. These names reflect the importance of pandas in conservation efforts and symbolize their gentle and peaceful nature.
Harmony
Zenith
Everest
Nimbus
Serenity
Valor
Noble
Aria
Harmony
Aurora
Prosper
Radiance
Saffron
Zenith
Ember
Solstice
Haven
Orion
Tranquil
Seraph
Immerse yourself in the cultural heritage of pandas with names inspired by Chinese traditions and symbolism. These names convey authenticity and connection to the pandas' native land.
Xing Xing (星星) – Meaning "star."
Yuan Yuan (圆圆) – Meaning "round and complete."
Mei Mei (美美) – Meaning "beautiful" or "charming."
Tian Tian (甜甜) – Meaning "sweet" or "adorable."
Li Wei (丽薇) – Meaning "beautiful rose."
Jun Wei (俊伟) – Meaning "handsome" and "great."
Jing Jing (晶晶) – Meaning "crystal" or "sparkling."
Ming Yue (明月) – Meaning "bright moon."
Chang Chang (畅畅) – Meaning "unhindered" or "free."
Xiulan (秀兰) – Meaning "elegant orchid."
Ying Yue (英越) – Meaning "heroic leap."
Xiu Mei (秀美) – Meaning "elegant beauty."
Rong Hua (蓉华) – Meaning "lotus flower."
Jiayi (佳怡) – Meaning "pleasant" and "happy."
Mingzhu (明珠) – Meaning "bright pearl."
Chen Wei (晨蔚) – Meaning "morning" and "vast."
Rui Xue (瑞雪) – Meaning "auspicious snow."
Yun Hao (云浩) – Meaning "cloud" and "grand."
Li Jing (丽静) – Meaning "beautiful" and "quiet."
Quan Ming (全明) – Meaning "complete" and "bright."
Discover a range of endearing nicknames that capture the essence of your panda's personality. These names are perfect for adding a personal touch to your panda friend's identity.
Panda Pal
Fluffy
Cuddlebug
Panda Buddy
Snugglebear
Pandykins
Pawsome
Fuzzy Wuzzy
Bamboo Bae
Hugbug
Pandy Paws
Bear Hugger
Cozy Cub
Snugglepuff
Pandalicious
Set your panda apart with names that reflect individuality and distinctiveness. These names stand out from the crowd, showcasing your panda's special qualities and character.
Zephyr
Elixir
Nimbus
Quasar
Lyric
Zephyr
Velvetine
Solstice
Eclipse
Sylph
Ardent
Quillon
Serendip
Stardust
Enigma
Explore the unique charm of Japanese culture with panda names that draw inspiration from Japan's affinity for these creatures. These names offer a fusion of tradition and cuteness.
Sakura (さくら) – Cherry blossom.
Kuma (くま) – Bear.
Yuki (ゆき) – Snow.
Hana (はな) – Flower.
Kuro (くろ) – Black.
Mochi (もち) – Sticky rice cake.
Amaya (あまや) – Night rain.
Maru (まる) – Round or complete.
Haru (はる) – Spring.
Roku (ろく) – Six.
Aki (あき) – Autumn.
Ren (れん) – Lotus.
Sora (そら) – Sky.
Nami (なみ) – Wave.
Fuyu (ふゆ) – Winter.
Experience a selection of the finest names for pandas that encompass a range of qualities that make pandas fascinating and lovable. These names are handpicked to provide top-tier options for your cherished panda companion.
Zenith
Avalon
Orion
Celestia
Enigma
Nimbus
Seraphina
Solstice
Azura
Everest
Zephyr
Harmony
Lumina
Rhapsody
Astrid
In the world of panda names, creativity, and affection come together to celebrate these remarkable creatures. Whether drawing from their appearance, personality, or cultural inspirations, the right name adds a special touch to these adorable animals' lives.