As mystical creatures of Greek mythology, Pegasus symbolizes a world of endless possibilities, boundless creativity, and powerful inspiration. Whether you're naming a new character in your novel, a figurine in your collection, or seeking inspiration for a creative project, choosing a name for a Pegasus offers a chance to delve into the world of imagination and fantasy. 
This article will explore various name categories for your Pegasus, from the divine and mythological to celestial and whimsical names. Let's embark on this exciting naming journey through the clouds. 
Pegasus Names begin with understanding the essence of these magical creatures. In Greek mythology creatures are often seen as symbols of wisdom and inspiration. It's important to remember this mythical background, as it brings a unique and enchanting aspect to their identity. 
Divine Origin and Inspiration
Pegasus was a divine creature born from the blood of Medusa when Perseus defeated her. Such an extraordinary origin can inspire names that reflect not just the mythological roots of the Pegasus but also a connection to themes of victory, transformation, and transcendence. Names with a mythological, divine, or heroic feel can offer a sense of connection to these larger narratives and symbolisms. 
Pegasus is best known for its majestic wings, a defining feature that sets it apart from other mythology creatures. This powerful symbolism can inspire names that evoke the sky, clouds, wind, or flight. These names reflect the Pegasus' freedom and grace, its power to traverse the heavens, and its inherent connection to the element of air. 
Like any other character, your Pegasus might have personality traits and play a specific role in its world or story. It could be a wise guide, a loyal companion, a courageous warrior, or a swift messenger.  
Considering these characteristics, you'll find they can be a rich source of inspiration for naming your Pegasus. An adventurous Pegasus might need a bold, spirited name, while a gentle and nurturing Pegasus could suit a softer, more melodic name. 
Divine and Mythological Pegasus Names: Connecting with the Gods
Mythology is a treasure trove of names that connect your Pegasus to its divine roots. These Pegasus names, often associated with gods, goddesses, or other mythological creatures, add a layer of charisma and power to your Pegasus identity. 
Zeus

 

Hermes

 

Orion

 

Apollo

 

Athena

 

Perseus

 

Hercules

 

Atlas

 

Eros

 

Ares

 

Dionysus

 

Eos

 

Helios

 

Hera

 

Poseidon

 
Sky and Flight-Inspired Pegasus Names: Celebrating the Freedom of Flight
Reflecting the defining feature of Pegasus, their ability to fly, these Pegasus names are inspired by elements of the sky, flight, and celestial bodies. They add a touch of the infinite sky to your Pegasus identity. 
Aurora

 

Nebula

 

Starlight

 

Eclipse

 

Comet

 

Solaris

 

Nimbus

 

Cirrus

 

Gale

 

Stratos

 

Vortex

 

Cyclone

 

Borealis

 

Solstice

 

Equinox

 
Whimsical Pegasus Names: Adding a Touch of Magic and Playfulness
If you're looking for something light-hearted and playful, whimsical names can infuse a sense of fun and magic into your Pegasus identity. These names often sound charming and unbelievable, perfect for a creature from the world of mythology. 
Glitterwing

 

Stardust

 

Moonbeam

 

Rainbowsky

 

Sunsparkle

 

Dreamflutter

 

Glimmergale

 

Starfrost

 

Mysticbreeze

 

Cloudwhisper

 

Skyrider

 

Lightfeather

 

Duskshadow

 

Winddancer

 

Moondreamer

 
Names Inspired by Legendary Horses: Paying Homage to Famous Steeds
Drawing inspiration from famous horses in history, literature, and mythology can give your Pegasus a rich name reservoir. These names honor these legendary steeds' strength, courage, and loyalty, fitting traits for your winged horse. 
Shadowfax

 

Bucephalus

 

Pegasus

 

Sleipnir

 

Hidalgo

 

Arion

 

Rocinante

 

Flicka

 

Phar Lap

 

Seabiscuit

 

Secretariat

 

Silver

 

Black Beauty

 

Marengo

 

Copenhagen

 
Nature-Inspired Pegasus Names: Echoing the Natural World
With its awe-inspiring beauty and grandeur, nature can offer beautiful names for your Pegasus. These names, inspired by various elements of the natural world, can encapsulate the raw, powerful, and majestic essence of your winged horse. 
Thunder

 

Breeze

 

Torrent

 

Comet

 

Storm

 

Blaze

 

Mistral

 

Zephyr

 

Frost

 

Gale

 

Tornado

 

River

 

Lightning

 

Dewdrop

 

Rain

 
Names Based on Colors: Reflecting Your Pegasus' Hue
A Pegasus' color could serve as a fantastic inspiration for its name. Whether white as snow, black as night, or gold as sunlight, these color-based names can reflect your Pegasus' appearance, adding a personal touch to its identity. 
Snowflake

 

Midnight

 

Goldrush

 

Silversky

 

Scarlet

 

Azure

 

Ebony

 
Names Inspired by Constellations: A Celestial Homage
Starry constellations have been inspiring humanity for eons. For your Pegasus, a creature symbolically tied to the heavens, constellation names can provide a celestial homage, further reinforcing its mythical essence and the majesty of the skies it traverses. 
Orion

 

Cassiopeia

 

Andromeda

 

Lyra

 

Pegasus

 

Hercules

 

Draco

 

Cygnus

 

Phoenix

 

Gemini

 

Aquila

 

Leo

 

Sirius

 

Vega

 

Polaris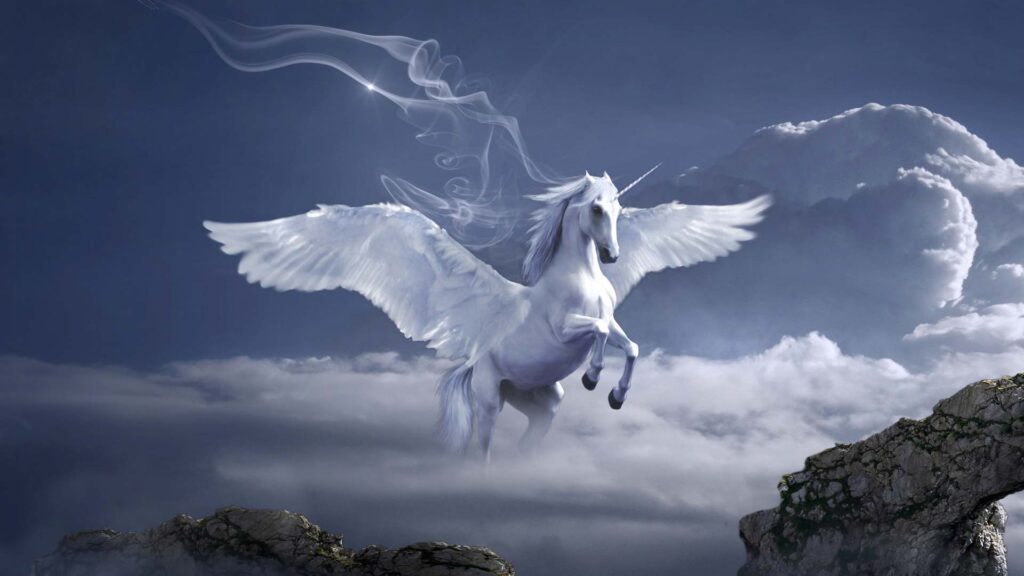 Greek-inspired Pegasus Names: Honouring the Birthplace of Pegasus
Pegasus sprang from Greek mythology, and the rich trove of Greek names, whether of gods, goddesses, heroes, or places, can serve as fitting monikers. These names connect your Pegasus to its mythical roots and the fascinating tales of ancient Greece. 
Athena

 

Perseus

 

Heracles

 

Artemis

 

Elysium

 

Demeter

 

Dionysius

 

Hades

 

Icarus

 

Themis

 

Aegean

 

Hyperion

 

Leto

 

Eos

 

Calliope

 
Names Inspired by the Elements: Embracing the Forces of Nature
Being a creature of air and sky, your Pegasus names comes from the four classic elements: earth, air, fire, and water. These names symbolize the primal forces of nature, reinforcing your Pegasus' connection to the natural world and its raw, elemental power.
Aether

 

Zephyr

 

Ignis

 

Terra

 

Flare

 

Boreas

 

Nimbus

 

Pyro

 

Gaia

 

River

 

Blaze

 

Sylph

 

Marina

 

Flint

 

Aurora

 
Embarking on the journey to your Pegasus names is an exciting adventure filled with creativity and imagination. It's an opportunity to delve into mythology, explore the skies, and add a touch of whimsy to your world.
Whether you're drawn towards the divine, the celestial, the whimsical, or all three, the perfect name for your Pegasus awaits. So, soar high and let your imagination take flight. After all, the sky is not the limit when you're naming a Pegasus.